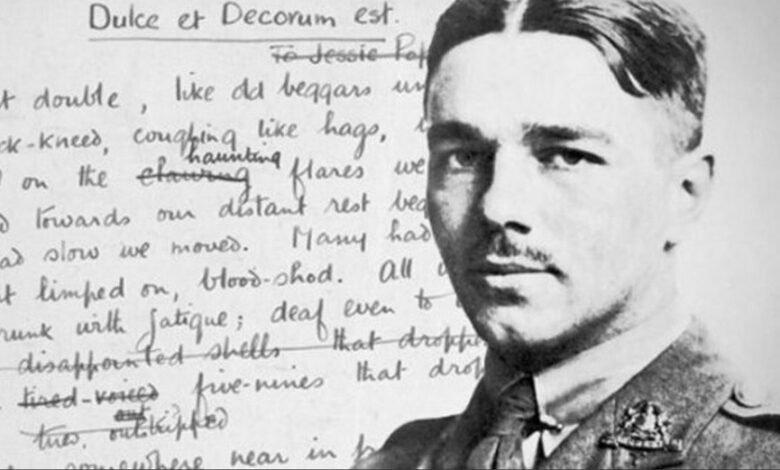 Greater Love
Red lips are not so red
As the stained stones kissed by the English dead.
Kindness of wooed and wooer
Seems shame to their love pure.
O Love, your eyes lose lure
When I behold eyes blinded in my stead!
Your slender attitude
Trembles not exquisite like limbs knife-skewed,
Rolling and rolling there
Where God seems not to care;
Till the fierce love they bear
Cramps them in death's extreme decrepitude.
Your voice sings not so soft,-
Though even as wind murmuring through raftered loft,-
Your dear voice is not dear,
Gentle, and evening clear,
As theirs whom none now hear,
Now earth has stopped their piteous mouths that coughed.
Heart, you were never hot
Nor large, nor full like hearts made great with shot;
And though your hand be pale,
Paler are all which trail
Your cross through flame and hail:
Weep, you may weep, for you may touch them not.
---
Happiness
Ever again to breathe pure happiness,
So happy that we gave away our toy?
We smiled at nothings, needing no caress?
Have we not laughed too often since with Joy?
Have we not stolen too strange and sorrowful wrongs
For her hands' pardoning? The sun may cleanse,
And time, and starlight. Life will sing great songs,
And gods will show us pleasures more than men's.
Yet heaven looks smaller than the old doll's-home,
No nestling place is left in bluebell bloom,
And the wide arms of trees have lost their scope.
The former happiness is unreturning:
Boys' griefs are not so grievous as our yearning,
Boys have no sadness sadder than our hope.
---
Smile, Smile, Smile
Head to limp head, the sunk-eyed wounded scanned
Yesterday's Mail; the casualties (typed small)
And (large) Vast Booty from our Latest Haul.
Also, they read of Cheap Homes, not yet planned;
For, said the paper, "When this war is done
The men's first instinct will be making homes.
Meanwhile their foremost need is aerodromes,
It being certain war has just begun.
Peace would do wrong to our undying dead, —
The sons we offered might regret they died
If we got nothing lasting in their stead.
We must be solidly indemnified.
Though all be worthy Victory which all bought,
We rulers sitting in this ancient spot
Would wrong our very selves if we forgot
The greatest glory will be theirs who fought,
Who kept this nation in integrity."
Nation? — The half-limbed readers did not chafe
But smiled at one another curiously
Like secret men who know their secret safe.
This is the thing they know and never speak,
That England one by one had fled to France
(Not many elsewhere now save under France).
Pictures of these broad smiles appear each week,
And people in whose voice real feeling rings
Say: How they smile! They're happy now, poor things.
---
Song of Songs
Sing me at morn but only with your laugh;
Even as Spring that laugheth into leaf;
Even as Love that laugheth after Life.
Sing me but only with your speech all day,
As voluble leaflets do; let viols die;
The least word of your lips is melody!
Sing me at eve but only your sigh!
Like lifting seas it solaceth; breathe so,
Slowly and low, the sense that no songs say.
Sing me at midnight with your murmurous heart!
Let youth's immortal-moaning chord be heard
Throbbing through you, and sobbing, unsubdued.
---
Soldier's Dream
I dreamed kind Jesus fouled the big-gun gears;
And caused a permanent stoppage in all bolts;
And buckled with a smile Mausers and Colts;
And rusted every bayonet with His tears.
And there were no more bombs, of ours or Theirs,
Not even an old flint-lock, not even a pikel.
But God was vexed, and gave all power to Michael;
And when I woke he'd seen to our repairs.
---
Storm
His face was charged with beauty as a cloud
With glimmering lightning. When it shadowed me
I shook, and was uneasy as a tree
That draws the brilliant danger, tremulous, bowed.
So must I tempt that face to loose its lightning.
Great gods, whose beauty is death, will laugh above,
Who made his beauty lovelier than love.
I shall be bright with their unearthly brightening.
And happier were it if my sap consume;
Glorious will shine the opening of my heart;
The land shall freshen that was under gloom;
What matter if all men cry aloud and start,
And women hide bleak faces in their shawl,
At those hilarious thunders of my fall?
---
The Last Laugh
'Oh! Jesus Christ! I'm hit,' he said; and died.
Whether he vainly cursed or prayed indeed,
The Bullets chirped-In vain, vain, vain!
Machine-guns chuckled,-Tut-tut! Tut-tut!
And the Big Gun guffawed.
Another sighed,-'O Mother, -Mother, – Dad!'
Then smiled at nothing, childlike, being dead.
And the lofty Shrapnel-cloud
Leisurely gestured,-Fool!
And the splinters spat, and tittered.
'My Love!' one moaned. Love-languid seemed his mood,
Till slowly lowered, his whole faced kissed the mud.
And the Bayonets' long teeth grinned;
Rabbles of Shells hooted and groaned;
And the Gas hissed.
---

Training
Not this week nor this month dare I lie down
In languour under lime trees or smooth smile.
Love must not kiss my face pale that is brown.
My lips, parting, shall drink space, mile by mile;
Strong meats be all my hunger; my renown
Be the clean beauty of speed and pride of style.
Cold winds encountered on the racing Down
Shall thrill my heated bareness; but awhile
None else may meet me till I wear my crown.
---
The End
After the blast of lightning from the east,
The flourish of loud clouds, the Chariot throne,
After the drums of time have rolled and ceased
And from the bronze west long retreat is blown,
Shall Life renew these bodies? Of a truth
All death will he annul, all tears assuage?
Or fill these void veins full again with youth
And wash with an immortal water age?
When I do ask white Age, he saith not so, —
"My head hangs weighed with snow."
And when I hearken to the Earth she saith
My fiery heart sinks aching. It is death.
Mine ancient scars shall not be glorified
Nor my titanic tears the seas be dried."
---
Mental Cases
Who are these? Why sit they here in twilight?
Wherefore rock they, purgatorial shadows,
Drooping tongues from jays that slob their relish,
Baring teeth that leer like skulls' teeth wicked?
Stroke on stroke of pain,- but what slow panic,
Gouged these chasms round their fretted sockets?
Ever from their hair and through their hands' palms
Misery swelters. Surely we have perished
Sleeping, and walk hell; but who these hellish?
-These are men whose minds the Dead have ravished.
Memory fingers in their hair of murders,
Multitudinous murders they once witnessed.
Wading sloughs of flesh these helpless wander,
Treading blood from lungs that had loved laughter.
Always they must see these things and hear them,
Batter of guns and shatter of flying muscles,
Carnage incomparable, and human squander
Rucked too thick for these men's extrication.
Therefore still their eyeballs shrink tormented
Back into their brains, because on their sense
Sunlight seems a blood-smear; night comes blood-black;
Dawn breaks open like a wound that bleeds afresh.
-Thus their heads wear this hilarious, hideous,
Awful falseness of set-smiling corpses.
-Thus their hands are plucking at each other;
Picking at the rope-knouts of their scourging;
Snatching after us who smote them, brother,
Pawing us who dealt them war and madness.
---
Asleep
Under his helmet, up against his pack,
After so many days of work and waking,
Sleep took him by the brow and laid him back.
There, in the happy no-time of his sleeping,
Death took him by the heart. There heaved a quaking
Of the aborted life within him leaping,
Then chest and sleepy arms once more fell slack.
And soon the slow, stray blood came creeping
From the intruding lead, like ants on track.
Whether his deeper sleep lie shaded by the shaking
Of great wings, and the thoughts that hung the stars,
High-pillowed on calm pillows of God's making,
Above these clouds, these rains, these sleets of lead,
And these winds' scimitars,
-Or whether yet his thin and sodden head
Confuses more and more with the low mould,
His hair being one with the grey grass
Of finished fields, and wire-scrags rusty-old,
Who knows? Who hopes? Who troubles? Let it pass!
He sleeps. He sleeps less tremulous, less cold,
Than we who wake, and waking say Alas!
---
My Shy Hand
My shy hand shades a hermitage apart, –
O large enough for thee, and thy brief hours.
Life there is sweeter held than in God's heart,
Stiller than in the heavens of hollow flowers.
The wine is gladder there than in gold bowls.
And Time shall not drain thence, nor trouble spill.
Sources between my fingers feed all souls,
Where thou mayest cool thy lips, and draw thy fill.
Five cushions hath my hand, for reveries;
And one deep pillow for thy brow's fatigues;
Languor of June all winterlong, and ease
For ever from the vain untravelled leagues.
Thither your years may gather in from storm,
And Love, that sleepeth there, will keep thee warm.
---
Inspection
'You! What d'you mean by this?' I rapped.
'You dare come on parade like this?'
'Please, sir, it's-' "Old yer mouth,' the sergeant snapped.
'I takes 'is name, sir?'-'Please, and then dismiss.'
Some days 'confined to camp' he got,
For being 'dirty on parade'.
He told me, afterwards, the damnèd spot
Was blood, his own. 'Well, blood is dirt,' I said.
'Blood's dirt,' he laughed, looking away,
Far off to where his wound had bled
And almost merged for ever into clay.
'The world is washing out its stains,' he said.
'It doesn't like our cheeks so red:
Young blood's its great objection.
But when we're duly white-washed, being dead,
The race will bear Field-Marshal God's inspection.'
---