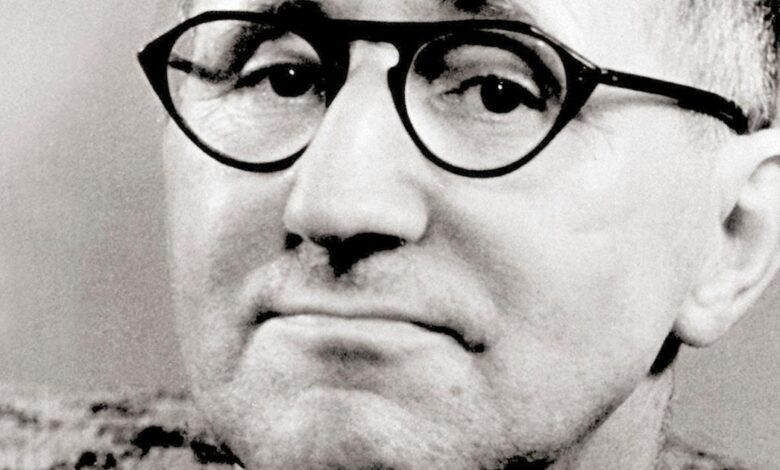 Poems
Bertolt Brecht Poems
I Want To Go With The One I Love
I want to go with the one I love.
I do not want to calculate the cost.
I do not want to think about whether it's good.
I do not want to know whether he loves me.
I want to go with whom I love.
---
The Solution
After the uprising of the 17th June
The Secretary of the Writers Union
Had leaflets distributed in the Stalinallee
Stating that the people
Had forfeited the confidence of the government
And could win it back only
By redoubled efforts. Would it not be easier
In that case for the government
To dissolve the people
And elect another?
---
To Those Born After
I
To the cities I came in a time of disorder
That was ruled by hunger.
I sheltered with the people in a time of uproar
And then I joined in their rebellion.
That's how I passed my time that was given to me on this Earth.
I ate my dinners between the battles,
I lay down to sleep among the murderers,
I didn't care for much for love
And for nature's beauties I had little patience.
That's how I passed my time that was given to me on this Earth.
The city streets all led to foul swamps in my time,
My speech betrayed me to the butchers.
I could do only little
But without me those that ruled could not sleep so easily:
That's what I hoped.
That's how I passed my time that was given to me on this Earth.
Our forces were slight and small,
Our goal lay in the far distance
Clearly in our sights,
If for me myself beyond my reaching.
That's how I passed my time that was given to me on this Earth.
II
You who will come to the surface
From the flood that's overwhelmed us and drowned us all
Must think, when you speak of our weakness in times of darkness
That you've not had to face:
Days when we were used to changing countries
More often than shoes,
Through the war of the classes despairing
That there was only injustice and no outrage.
Even so we realised
Hatred of oppression still distorts the features,
Anger at injustice still makes voices raised and ugly.
Oh we, who wished to lay for the foundations for peace and friendliness,
Could never be friendly ourselves.
And in the future when no longer
Do human beings still treat themselves as animals,
Look back on us with indulgence.
---
What Has Happened?
The industrialist is having his aeroplane serviced.
The priest is wondering what he said in his sermon eight weeks ago
about tithes.
The generals are putting on civvies and looking like bank clerks.
Public officials are getting friendly.
The policeman points out the way to the man in the cloth cap.
The landlord comes to see whether the water supply is working.
The journalists write the word People with capital letters.
The singers sing at the opera for nothing.
Ships' captains check the food in the crew's galley,
Car owners get in beside their chauffeurs.
Doctors sue the insurance companies.
Scholars show their discoveries and hide their decorations.
Farmers deliver potatoes to the barracks.
The revolution has won its first battle:
That's what has happened.
---
Send Me a Leaf
Send me a leaf, but from a bush
That grows at least one half hour
Away from your house, then
You must go and will be strong, and I
Thank you for the pretty leaf.
---
To Posterity
1.
Indeed I live in the dark ages!
A guileless word is an absurdity. A smooth forehead betokens
A hard heart. He who laughs
Has not yet heard
The terrible tidings.
Ah, what an age it is
When to speak of trees is almost a crime
For it is a kind of silence about injustice!
And he who walks calmly across the street,
Is he not out of reach of his friends
In trouble?
It is true: I earn my living
But, believe me, it is only an accident.
Nothing that I do entitles me to eat my fill.
By chance I was spared. (If my luck leaves me
I am lost.)
They tell me: eat and drink. Be glad you have it!
But how can I eat and drink
When my food is snatched from the hungry
And my glass of water belongs to the thirsty?
And yet I eat and drink.
I would gladly be wise.
The old books tell us what wisdom is:
Avoid the strife of the world
Live out your little time
Fearing no one
Using no violence
Returning good for evil —
Not fulfillment of desire but forgetfulness
Passes for wisdom.
I can do none of this:
Indeed I live in the dark ages!
2.
I came to the cities in a time of disorder
When hunger ruled.
I came among men in a time of uprising
And I revolted with them.
So the time passed away
Which on earth was given me.
I ate my food between massacres.
The shadow of murder lay upon my sleep.
And when I loved, I loved with indifference.
I looked upon nature with impatience.
So the time passed away
Which on earth was given me.
In my time streets led to the quicksand.
Speech betrayed me to the slaughterer.
There was little I could do. But without me
The rulers would have been more secure. This was my hope.
So the time passed away
Which on earth was given me.
3.
You, who shall emerge from the flood
In which we are sinking,
Think —
When you speak of our weaknesses,
Also of the dark time
That brought them forth.
For we went,changing our country more often than our shoes.
In the class war, despairing
When there was only injustice and no resistance.
For we knew only too well:
Even the hatred of squalor
Makes the brow grow stern.
Even anger against injustice
Makes the voice grow harsh. Alas, we
Who wished to lay the foundations of kindness
Could not ourselves be kind.
But you, when at last it comes to pass
That man can help his fellow man,
Do no judge us
Too harshly.
translated by H. R. Hays
---
To Be Read in the Morning and at Night
My love
Has told me
That he needs me.
That's why
I take good care of myself
Watch out where I'm going and
Fear that any drop of rain
Might kill me.
---
My Young Son Asks Me…
My young son asks me: Must I learn mathematics?
What is the use, I feel like saying. That two pieces
Of bread are more than one's about all you'll end up with.
My young son asks me: Must I learn French?
What is the use, I feel like saying. This State's collapsing.
And if you just rub your belly with your hand and
Groan, you'll be understood with little trouble.
My young son asks me: Must I learn history?
What is the use, I feel like saying. Learn to stick
Your head in the earth, and maybe you'll still survive.
Yes, learn mathematics, I tell him.
Learn your French, learn your history!
---

From A German War Primer
AMONGST THE HIGHLY PLACED
It is considered low to talk about food.
The fact is: they have
Already eaten.
The lowly must leave this earth
Without having tasted
Any good meat.
For wondering where they come from and
Where they are going
The fine evenings find them
Too exhausted.
They have not yet seen
The mountains and the great sea
When their time is already up.
If the lowly do not
Think about what's low
They will never rise.
THE BREAD OF THE HUNGRY HAS
ALL BEEN EATEN
Meat has become unknown. Useless
The pouring out of the people's sweat.
The laurel groves have been
Lopped down.
From the chimneys of the arms factories
Rises smoke.
THE HOUSE-PAINTER SPEAKS OF
GREAT TIMES TO COME
The forests still grow.
The fields still bear
The cities still stand.
The people still breathe.
ON THE CALENDAR THE DAY IS NOT
YET SHOWN
Every month, every day
Lies open still. One of those days
Is going to be marked with a cross.
THE WORKERS CRY OUT FOR BREAD
The merchants cry out for markets.
The unemployed were hungry. The employed
Are hungry now.
The hands that lay folded are busy again.
They are making shells.
THOSE WHO TAKE THE MEAT FROM THE TABLE
Teach contentment.
Those for whom the contribution is destined
Demand sacrifice.
Those who eat their fill speak to the hungry
Of wonderful times to come.
Those who lead the country into the abyss
Call ruling too difficult
For ordinary men.
WHEN THE LEADERS SPEAK OF PEACE
The common folk know
That war is coming.
When the leaders curse war
The mobilization order is already written out.
THOSE AT THE TOP SAY: PEACE
AND WAR
Are of different substance.
But their peace and their war
Are like wind and storm.
War grows from their peace
Like son from his mother
He bears
Her frightful features.
Their war kills
Whatever their peace
Has left over.
ON THE WALL WAS CHALKED:
They want war.
The man who wrote it
Has already fallen.
THOSE AT THE TOP SAY:
This way to glory.
Those down below say:
This way to the grave.
THE WAR WHICH IS COMING
Is not the first one. There were
Other wars before it.
When the last one came to an end
There were conquerors and conquered.
Among the conquered the common people
Starved. Among the conquerors
The common people starved too.
THOSE AT THE TOP SAY COMRADESHIP
Reigns in the army.
The truth of this is seen
In the cookhouse.
In their hearts should be
The selfsame courage. But
On their plates
Are two kinds of rations.
WHEN IT COMES TO MARCHING MANY DO NOT
KNOW
That their enemy is marching at their head.
The voice which gives them their orders
Is their enemy's voice and
The man who speaks of the enemy
Is the enemy himself.
IT IS NIGHT
The married couples
Lie in their beds. The young women
Will bear orphans.
GENERAL, YOUR TANK IS A POWERFUL VEHICLE
It smashes down forests and crushes a hundred men.
But it has one defect:
It needs a driver.
General, your bomber is powerful.
It flies faster than a storm and carries more than an elephant.
But it has one defect:
It needs a mechanic.
General, man is very useful.
He can fly and he can kill.
But he has one defect:
He can think.
---
On the Critical Attitude
The critical attitude
Strikes many people as unfruitful
That is because they find the state
Impervious to their criticism
But what in this case is an unfruitful attitude
Is merely a feeble attitude. Give criticism arms
And states can be demolished by it.
Canalising a river
Grafting a fruit tree
Educating a person
Transforming a state
These are instances of fruitful criticism
And at the same time instances of art.
---
Radio Poem
You little box, held to me escaping
So that your valves should not break
Carried from house to house to ship from sail to train,
So that my enemies might go on talking to me,
Near my bed, to my pain
The last thing at night, the first thing in the morning,
Of their victories and of my cares,
Promise me not to go silent all of a sudden.
---
Parting
We embrace.
Rich cloth under my fingers
While yours touch poor fabric.
A quick embrace
You were invited for dinner
While the minions of law are after me.
We talk about the weather and our
Lasting friendship. Anything else
Would be too bitter.
---