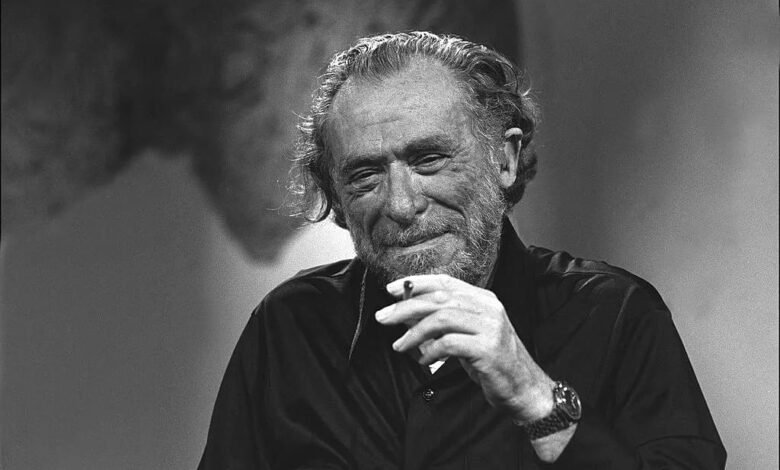 Poems
Charles Bukowski Poems
I Met A Genius
I met a genius on the train
today
about 6 years old,
he sat beside me
and as the train
ran down along the coast
we came to the ocean
and then he looked at me
and said,
it's not pretty.
it was the first time I'd
realized
that.
---
I'm In Love
she's young, she said,
but look at me,
I have pretty ankles,
and look at my wrists, I have pretty
wrists
o my god,
I thought it was all working,
and now it's her again,
every time she phones you go crazy,
you told me it was over
you told me it was finished,
listen, I've lived long enough to become a
good woman,
why do you need a bad woman?
you need to be tortured, don't you?
you think life is rotten if somebody treats you
rotten it all fits,
doesn't it?
tell me, is that it? do you want to be treated like a
piece of shit?
and my son, my son was going to meet you.
I told my son
and I dropped all my lovers.
I stood up in a cafe and screamed
I'M IN LOVE,
and now you've made a fool of me. . .
I'm sorry, I said, I'm really sorry.
hold me, she said, will you please hold me?
I've never been in one of these things before, I said,
these triangles. . .
she got up and lit a cigarette, she was trembling all
over.she paced up and down,wild and crazy.she had
a small body.her arms were thin,very thin and when
she screamed and started beating me I held her
wrists and then I got it through the eyes:hatred,
centuries deep and true.I was wrong and graceless and
sick.all the things I had learned had been wasted.
there was no creature living as foul as I
and all my poems were
false.
---
I like your books
In the betting line the other
day
man behind me asked,
"are you Henry
Chinaski?"
"uh huh," I answered.
"I like your books," he went
on.
"thanks," I answered.
"who do you like in this
race?" he asked.
"uh uh," I answered.
"I like the 4 horse," he
told me.
I made my bet and went back
to my seat….
the next race I am standing in
line and here is this same man
standing behind me
again.
there are at least 50 lines at
the windows but
he has to find mine
again.
"I think this race favors the
closers," he said to the back of
my neck. "the track looks
heavy."
"listen," I said, not looking
around, "it's the kiss of death to
talk about horses at the
track…"
"what kind of rule is that?"
he asked. "God doesn't make
rules…"
I turned around and looked at him:
"maybe not, but I
do."
after the next race
I got in line, glanced behind
me:
he was not there:
lost another reader.
I lose 2 or 3 each
week.
fine.
let 'em go back to
Kafka.
---
So Now?
the words have come and gone,
I sit ill.
the phone rings, the cats sleep.
Linda vacuums.
I am waiting to live,
waiting to die.
I wish I could ring in some bravery.
it's a lousy fix
but the tree outside doesn't know:
I watch it moving with the wind
in the late afternoon sun.
there's nothing to declare here,
just a waiting.
each faces it alone.
Oh, I was once young,
Oh, I was once unbelievably
young!
from Transit magazine, 1994
---
A Following
the phone rang at 1:30 a.m.
and it was a man from Denver:
"Chinaski, you got a following in
Denver…"
"yeah?"
"yeah, I got a magazine and I want some
poems from you…"
"FUCK YOU, CHINASKI!" I heard a voice
in the background…
"I see you have a friend,"
I said.
"yeah," he answered, "now, I want
six poems…"
"CHINASKI SUCKS! CHINASKI'S A PRICK!"
I heard the other
voice.
"you fellows been drinking?"
I asked.
"so what?" he answered. "you drink."
"that's true…"
"CHINASKI'S AN ASSHOLE!"
then
the editor of the magazine gave me the
address and I copied it down on the back
of an envelope.
"send us some poems now…"
"I'll see what I can do…"
"CHINASKI WRITES SHIT!"
"goodbye," I said.
"goodbye," said the
editor.
I hung up.
there are certainly any number of lonely
people without much to do with
their nights.
---
Freedom
he drank wine all night of the
28th, and he kept thinking of her:
the way she walked and talked and loved
the way she told him things that seemed true
but were not, and he knew the color of each
of her dresses
and her shoes-he knew the stock and curve of
each heel
as well as the leg shaped by it.
and she was out again and when he came home, and
she'd come back with that special stink again,
and she did
she came in at 3 a.m in the morning
filthy like a dung eating swine
and
he took out a butchers knife
and she screamed
backing into the rooming house wall
still pretty somehow
in spite of love's reek
and he finished the glass of wine.
that yellow dress
his favorite
and she screamed again.
and he took up the knife
and unhooked his belt
and tore away the cloth before her
and cut off his balls.
and carried them in his hands
like apricots
and flushed them down the
toilet bowl
and she kept screaming
as the room became red
GOD O GOD!
WHAT HAVE YOU DONE?
and he sat there holding 3 towels
between his legs
no caring now whether she left or
stayed
wore yellow or green or
anything at all.
and one hand holding and one hand
lifting he poured
another wine
---
Luck
once
we were young
at this
machine. . .
drinking
smoking
typing
it was a most
splendid
miraculous
time
still
is
only now
instead of
moving toward
time
it
moves toward
us
makes each word
drill
into the
paper
clear
fast
hard
feeding a
closing
space.
---
I Made A Mistake
I reached up into the top of the closet
and took out a pair of blue panties
and showed them to her and
asked "are these yours?"
and she looked and said,
"no, those belong to a dog."
she left after that and I haven't seen
her since. she's not at her place.
I keep going there, leaving notes stuck
into the door. I go back and the notes
are still there. I take the Maltese cross
cut it down from my car mirror, tie it
to her doorknob with a shoelace, leave
a book of poems.
when I go back the next night everything
is still there.
I keep searching the streets for that
blood-wine battleship she drives
with a weak battery, and the doors
hanging from broken hinges.
I drive around the streets
an inch away from weeping,
ashamed of my sentimentality and
possible love.
a confused old man driving in the rain
wondering where the good luck
went.
---
Like A Flower In The Rain
I cut the middle fingernail of the middle
finger
right hand
real short
and I began rubbing along her cunt
as she sat upright in bed
spreading lotion over her arms
face
and breasts
after bathing.
then she lit a cigarette:
"don't let this put you off,"
and smoked and continued to rub
the lotion on.
I continued to rub the cunt.
"You want an apple?" I asked.
"sure, she said, "you got one?"
but I got to her-
she began to twist
then she rolled on her side,
she was getting wet and open
like a flower in the rain.
then she rolled on her stomach
and her most beautiful ass
looked up at me
and I reached under and got the
cunt again.
she reached around and got my
cock, she rolled and twisted,
I mounted
my face falling into the mass
of red hair that overflowed
from her head
and my flattened cock entered
into the miracle.
later we joked about the lotion
and the cigarette and the apple.
then I went out and got some chicken
and shrimp and french fries and buns
and mashed potatoes and gravy and
cole slaw,and we ate.she told me
how good she felt and I told her
how good I felt and we
ate the chicken and the shrimp and the
french fries and the buns and the
mashed potatoes and the gravy and
the cole slaw too.
---

Raw With Love
little dark girl with
kind eyes
when it comes time to
use the knife
I won't flinch and
I won't blame
you,
as I drive along the shore alone
as the palms wave,
the ugly heavy palms,
as the living does not arrive
as the dead do not leave,
I won't blame you,
instead
I will remember the kisses
our lips raw with love
and how you gave me
everything you had
and how I
offered you what was left of
me,
and I will remember your small room
the feel of you
the light in the window
your records
your books
our morning coffee
our noons our nights
our bodies spilled together
sleeping
the tiny flowing currents
immediate and forever
your leg my leg
your arm my arm
your smile and the warmth
of you
who made me laugh
again.
little dark girl with kind eyes
you have no
knife. the knife is
mine and I won't use it
yet.
---
Bluebird
there's a bluebird in my heart that
wants to get out
but I'm too tough for him,
I say, stay in there, I'm not going
to let anybody see
you.
there's a bluebird in my heart that
wants to get out
but I pour whiskey on him and inhale
cigarette smoke
and the whores and the bartenders
and the grocery clerks
never know that
he's
in there.
there's a bluebird in my heart that
wants to get out
but I'm too tough for him,
I say,
stay down, do you want to mess
me up?
you want to screw up the
works?
you want to blow my book sales in
Europe?
there's a bluebird in my heart that
wants to get out
but I'm too clever, I only let him out
at night sometimes
when everybody's asleep.
I say, I know that you're there,
so don't be
sad.
then I put him back,
but he's singing a little
in there, I haven't quite let him
die
and we sleep together like
that
with our
secret pact
and it's nice enough to
make a man
weep, but I don't
weep, do
you?
---
The House
They are building a house
half a block down
and I sit up here
with the shades down
listening to the sounds,
the hammers pounding in nails,
thack thack thack thack,
and then I hear birds,
and thack thack thack,
and I go to bed,
I pull the covers to my throat;
they have been building this house
for a month, and soon it will have
its people…sleeping, eating,
loving, moving around,
but somehow
now
it is not right,
there seems a madness,
men walk on top with nails
in their mouths
and I read about Castro and Cuba,
and at night I walk by
and the ribs of the house show
and inside I can see cats walking
the way cats walk,
and then a boy rides by on a bicycle
and still the house is not done
and in the morning the men
will be back
walking around on the house
with their hammers,
and it seems people should not build houses
anymore,
it seems people should not get married
anymore,
it seems people should stop working
and sit in small rooms
on 2nd floors
under electric lights without shades;
it seems there is a lot to forget
and a lot not to do,
and in drugstores, markets, bars,
the people are tired, they do not want
to move, and I stand there at night
and look through this house and the
house does not want to be built;
through its sides I can see the purple hills
and the first lights of evening,
and it is cold
and I button my coat
and I stand there looking through the house
and the cats stop and look at me
until I am embarrassed
and move North up the sidewalk
where I will buy
cigarettes and beer
and return to my room.
from "All's Normal Here" – 1985
---
Some People
some people never go crazy.
me, sometimes I'll lie down behind the couch
for 3 or 4 days.
they'll find me there.
it's Cherub, they'll say, and
they pour wine down my throat
rub my chest
sprinkle me with oils.
then, I'll rise with a roar,
rant, rage –
curse them and the universe
as I send them scattering over the
lawn.
I'll feel much better,
sit down to toast and eggs,
hum a little tune,
suddenly become as lovable as a
pink
overfed whale.
some people never go crazy.
what truly horrible lives
they must lead.
---