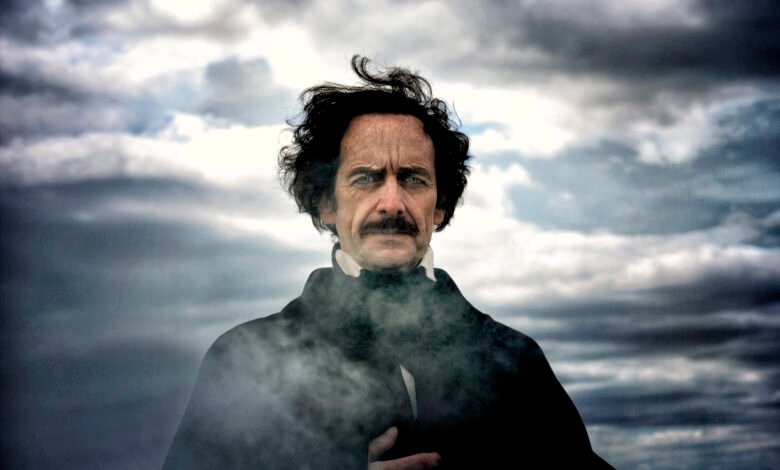 Poems
Edgar Allan Poe Poems

A DREAM
In visions of the dark night
I have dreamed of joy departed-
But a waking dream of life and light
Hath left me broken-hearted.
Ah! what is not a dream by day
To him whose eyes are cast
On things around him with a ray
Turned back upon the past?
That holy dream- that holy dream,
While all the world were chiding,
Hath cheered me as a lovely beam
A lonely spirit guiding.
What though that light, thro' storm and night,
So trembled from afar-
What could there be more purely bright
In Truth's day-star?
---
TO MY MOTHER
Because I feel that, in the Heavens above,
The angels, whispering to one another,
Can find, among their burning terms of love,
None so devotional as that of "Mother,"
Therefore by that dear name I long have called you-
You who are more than mother unto me,
And fill my heart of hearts, where Death installed you
In setting my Virginia's spirit free.
My mother- my own mother, who died early,
Was but the mother of myself; but you
Are mother to the one I loved so dearly,
And thus are dearer than the mother I knew
By that infinity with which my wife
Was dearer to my soul than its soul-life.
---
TO THE RIVER
Fair river! in thy bright, clear flow
Of crystal, wandering water,
Thou art an emblem of the glow
Of beauty- the unhidden heart-
The playful maziness of art
In old Alberto's daughter;
But when within thy wave she looks-
Which glistens then, and trembles-
Why, then, the prettiest of brooks
Her worshipper resembles;
For in his heart, as in thy stream,
Her image deeply lies-
His heart which trembles at the beam
Of her soul-searching eyes.
---
A VALENTINE
For her this rhyme is penned, whose luminous eyes,
Brightly expressive as the twins of Leda,
Shall find her own sweet name, that nestling lies
Upon the page, enwrapped from every reader.
Search narrowly the lines!- they hold a treasure
Divine- a talisman- an amulet
That must be worn at heart. Search well the measure-
The words- the syllables! Do not forget
The trivialest point, or you may lose your labor
And yet there is in this no Gordian knot
Which one might not undo without a sabre,
If one could merely comprehend the plot.
Enwritten upon the leaf where now are peering
Eyes scintillating soul, there lie perdus
Three eloquent words oft uttered in the hearing
Of poets, by poets- as the name is a poet's, too,
Its letters, although naturally lying
Like the knight Pinto- Mendez Ferdinando-
Still form a synonym for Truth- Cease trying!
You will not read the riddle, though you do the best you can do.
---
ALONE
From childhood's hour I have not been
As others were; I have not seen
As others saw; I could not bring
My passions from a common spring.
From the same source I have not taken
My sorrow; I could not awaken
My heart to joy at the same tone;
And all I loved, I loved alone.
Then- in my childhood, in the dawn
Of a most stormy life- was drawn
From every depth of good and ill
The mystery which binds me still:
From the torrent, or the fountain,
From the red cliff of the mountain,
From the sun that round me rolled
In its autumn tint of gold,
From the lightning in the sky
As it passed me flying by,
From the thunder and the storm,
And the cloud that took the form
(When the rest of Heaven was blue)
Of a demon in my view.
---
THE CITY IN THE SEA
Lo! Death has reared himself a throne
In a strange city lying alone
Far down within the dim West,
Where the good and the bad and the worst and the best
Have gone to their eternal rest.
There shrines and palaces and towers
(Time-eaten towers that tremble not!)
Resemble nothing that is ours.
Around, by lifting winds forgot,
Resignedly beneath the sky
The melancholy waters he.
No rays from the holy heaven come down
On the long night-time of that town;
But light from out the lurid sea
Streams up the turrets silently-
Gleams up the pinnacles far and free-
Up domes- up spires- up kingly halls-
Up fanes- up Babylon-like walls-
Up shadowy long-forgotten bowers
Of sculptured ivy and stone flowers-
Up many and many a marvellous shrine
Whose wreathed friezes intertwine
The viol, the violet, and the vine.
Resignedly beneath the sky
The melancholy waters lie.
So blend the turrets and shadows there
That all seem pendulous in air,
While from a proud tower in the town
Death looks gigantically down.
There open fanes and gaping graves
Yawn level with the luminous waves;
But not the riches there that lie
In each idol's diamond eye-
Not the gaily-jewelled dead
Tempt the waters from their bed;
For no ripples curl, alas!
Along that wilderness of glass-
No swellings tell that winds may be
Upon some far-off happier sea-
No heavings hint that winds have been
On seas less hideously serene.
But lo, a stir is in the air!
The wave- there is a movement there!
As if the towers had thrust aside,
In slightly sinking, the dull tide-
As if their tops had feebly given
A void within the filmy Heaven.
The waves have now a redder glow-
The hours are breathing faint and low-
And when, amid no earthly moans,
Down, down that town shall settle hence,
Hell, rising from a thousand thrones,
Shall do it reverence.
---
IMITATION
A dark unfathomed tide
Of interminable pride –
A mystery, and a dream,
Should my early life seem;
I say that dream was fraught
With a wild and waking thought
Of beings that have been,
Which my spirit hath not seen,
Had I let them pass me by,
With a dreaming eye!
Let none of earth inherit
That vision of my spirit;
Those thoughts I would control,
As a spell upon his soul:
For that bright hope at last
And that light time have past,
And my worldly rest hath gone
With a sigh as it passed on:
I care not though it perish
With a thought I then did cherish
---
THE HAPPIEST DAY-THE HAPPIEST HOUR
The happiest day- the happiest hour
My sear'd and blighted heart hath known,
The highest hope of pride and power,
I feel hath flown.
Of power! said I? yes! such I ween;
But they have vanish'd long, alas!
The visions of my youth have been-
But let them pass.
And, pride, what have I now with thee?
Another brow may even inherit
The venom thou hast pour'd on me
Be still, my spirit!
The happiest day- the happiest hour
Mine eyes shall see- have ever seen,
The brightest glance of pride and power,
I feel- have been:
But were that hope of pride and power
Now offer'd with the pain
Even then I felt- that brightest hour
I would not live again:
For on its wing was dark alloy,
And, as it flutter'd- fell
An essence- powerful to destroy
A soul that knew it well.