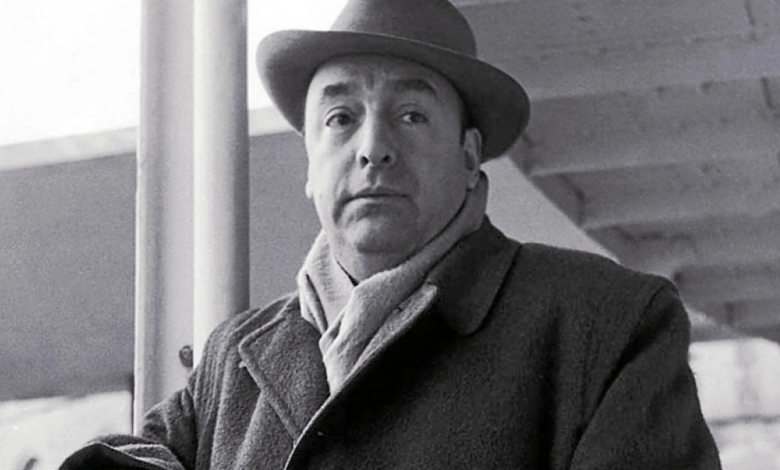 LOVE
What's wrong with you, with us,
what's happening to us?
Ah our love is a harsh cord
that binds us wounding us
and if we want
to leave our wound,
to separate,
it makes a new knot for us and condemns us
to drain our blood and burn together.
What's wrong with you? I look at you
and I find nothing in you but two eyes
like all eyes, a mouth
lost among a thousand mouths that I have kissed, more beautiful,
a body just like those that have slipped
beneath my body without leaving any memory.
And how empty you went through the world
like a wheat-colored jar
without air, without sound, without substance!
I vainly sought in you
depth for my arms
that dig, without cease, beneath the earth:
beneath your skin, beneath your eyes,
nothing,
beneath your double breast scarcely
raised
a current of crystalline order
that does not know why it flows singing.
Why, why, why,
my love, why?
---

I'M EXPLAINING A FEW THINGS
You are going to ask: and where are the lilacs?
and the poppy-petalled metaphysics?
and the rain repeatedly spattering
its words and drilling them full
of apertures and birds?
I'll tell you all the news.
I lived in a suburb,
a suburb of Madrid, with bells,
and clocks, and trees.
From there you could look out
over Castille's dry face:
a leather ocean.
My house was called
the house of flowers, because in every cranny
geraniums burst: it was
a good-looking house
with its dogs and children.
Remember, Raul?
Eh, Rafel? Federico, do you remember
from under the ground
my balconies on which
the light of June drowned flowers in your mouth?
Brother, my brother!
Everything
loud with big voices, the salt of merchandises,
pile-ups of palpitating bread,
the stalls of my suburb of Arguelles with its statue
like a drained inkwell in a swirl of hake:
oil flowed into spoons,
a deep baying
of feet and hands swelled in the streets,
metres, litres, the sharp
measure of life,
stacked-up fish,
the texture of roofs with a cold sun in which
the weather vane falters,
the fine, frenzied ivory of potatoes,
wave on wave of tomatoes rolling down the sea.
And one morning all that was burning,
one morning the bonfires
leapt out of the earth
devouring human beings —
and from then on fire,
gunpowder from then on,
and from then on blood.
Bandits with planes and Moors,
bandits with finger-rings and duchesses,
bandits with black friars spattering blessings
came through the sky to kill children
and the blood of children ran through the streets
without fuss, like children's blood.
Jackals that the jackals would despise,
stones that the dry thistle would bite on and spit out,
vipers that the vipers would abominate!
Face to face with you I have seen the blood
of Spain tower like a tide
to drown you in one wave
of pride and knives!
Treacherous
generals:
see my dead house,
look at broken Spain :
from every house burning metal flows
instead of flowers,
from every socket of Spain
Spain emerges
and from every dead child a rifle with eyes,
and from every crime bullets are born
which will one day find
the bull's eye of your hearts.
And you'll ask: why doesn't his poetry
speak of dreams and leaves
and the great volcanoes of his native land?
Come and see the blood in the streets.
Come and see
The blood in the streets.
Come and see the blood
In the streets!
---
ABSENCE
I have scarcely left you
When you go in me, crystalline,
Or trembling,
Or uneasy, wounded by me
Or overwhelmed with love, as
when your eyes
Close upon the gift of life
That without cease I give you.
My love,
We have found each other
Thirsty and we have
Drunk up all the water and the
Blood,
We found each other
Hungry
And we bit each other
As fire bites,
Leaving wounds in us.
But wait for me,
Keep for me your sweetness.
I will give you too
A rose.
---
BIRD
It was passed from one bird to another,
the whole gift of the day.
The day went from flute to flute,
went dressed in vegetation,
in flights which opened a tunnel
through the wind would pass
to where birds were breaking open
the dense blue air –
and there, night came in.
When I returned from so many journeys,
I stayed suspended and green
between sun and geography –
I saw how wings worked,
how perfumes are transmitted
by feathery telegraph,
and from above I saw the path,
the springs and the roof tiles,
the fishermen at their trades,
the trousers of the foam;
I saw it all from my green sky.
I had no more alphabet
than the swallows in their courses,
the tiny, shining water
of the small bird on fire
which dances out of the pollen.
---
CAT'S DREAM
How neatly a cat sleeps,
sleeps with its paws and its posture,
sleeps with its wicked claws,
and with its unfeeling blood,
sleeps with all the rings–
a series of burnt circles–
which have formed the odd geology
of its sand-colored tail.
I should like to sleep like a cat,
with all the fur of time,
with a tongue rough as flint,
with the dry sex of fire;
and after speaking to no one,
stretch myself over the world,
over roofs and landscapes,
with a passionate desire
to hunt the rats in my dreams.
I have seen how the cat asleep
would undulate, how the night
flowed through it like dark water;
and at times, it was going to fall
or possibly plunge into
the bare deserted snowdrifts.
Sometimes it grew so much in sleep
like a tiger's great-grandfather,
and would leap in the darkness over
rooftops, clouds and volcanoes.
Sleep, sleep cat of the night,
with episcopal ceremony
and your stone-carved moustache.
Take care of all our dreams;
control the obscurity
of our slumbering prowess
with your relentless heart
and the great ruff of your tail.
---
ENTRANCE OF THE RIVERS
Beloved of the rivers,beset
By azure water and transparent drops,
Like a tree of veins your spectre
Of dark goddess biting apples:
And then awakening naked
To be tattoed by the rivers,
And in the wet heights your head
Filled the world with new dew.
Water rose to your waist,
You are made of wellsprings
And lakes shone on your forehead.
From your sources of density you drew
Water like vital tears
And hauled the riverbeds to the sand
Across the planetary night,
Crossing rough, dilated stone,
Breaking down on the way
All the salt of geology,
Cutting through forests of compact walls
Dislodging the muscles of quartz.
---
BROWN AND AGILE CHILD
Brown and agile child, the sun which forms the fruit
And ripens the grain and twists the seaweed
Has made your happy body and your luminous eyes
And given your mouth the smile of water.
A black and anguished sun is entangled in the twigs
Of your black mane when you hold out your arms.
You play in the sun as in a tidal river
And it leaves two dark pools in your eyes.
Brown and agile child, nothing draws me to you,
Everything pulls away from me here in the noon.
You are the delirious youth of bee,
The drunkedness of the wave, the power of the heat.
My somber heart seeks you always
I love your happy body, your rich, soft voice.
Dusky butterfly, sweet and sure
Like the wheat field, the sun, the poppy, and the water.
---

GENTLEMAN ALONE
The young maricones and the horny muchachas,
The big fat widows delirious from insomnia,
The young wives thirty hours' pregnant,
And the hoarse tomcats that cross my garden at night,
Like a collar of palpitating sexual oysters
Surround my solitary home,
Enemies of my soul,
Conspirators in pajamas
Who exchange deep kisses for passwords.
Radiant summer brings out the lovers
In melancholy regiments,
Fat and thin and happy and sad couples;
Under the elegant coconut palms, near the ocean and moon,
There is a continual life of pants and panties,
A hum from the fondling of silk stockings,
And women's breasts that glisten like eyes.
The salary man, after a while,
After the week's tedium, and the novels read in bed at night,
Has decisively fucked his neighbor,
And now takes her to the miserable movies,
Where the heroes are horses or passionate princes,
And he caresses her legs covered with sweet down
With his ardent and sweaty palms that smell like cigarettes.
The night of the hunter and the night of the husband
Come together like bed sheets and bury me,
And the hours after lunch, when the students and priests are masturbating,
And the animals mount each other openly,
And the bees smell of blood, and the flies buzz cholerically,
And cousins play strange games with cousins,
And doctors glower at the husband of the young patient,
And the early morning in which the professor, without a thought,
Pays his conjugal debt and eats breakfast,
And to top it all off, the adulterers, who love each other truly
On beds big and tall as ships:
So, eternally,
This twisted and breathing forest crushes me
With gigantic flowers like mouth and teeth
And black roots like fingernails and shoes.
---
NAKED, YOU ARE AS
Naked, you are simple as one of your hands,
Smooth, earthy, small, transparent, round:
You have moonlines, applepathways:
Naked, you are slender as a naked grain of wheat.
Naked, you are blue as the night in Cuba;
You have vines and stars in your hair;
Naked, you are spacious and yellow
As summer in a golden church.
Naked, you are tiny as one of your nails,
Curved, subtle, rosy, till the day is born
And you withdraw to the underground world,
as if down a long tunnel of clothing and of chores:
Your clear light dims, gets dressed, drops its leaves,
And becomes a naked hand again.
---
Here I Love You
Here I love you.
In the dark pines the wind disentangles itself.
The moon glows like phosphorous on the vagrant waters.
Days, all one kind, go chasing each other.
The snow unfurls in dancing figures.
A silver gull slips down from the west.
Sometimes a sail. High, high stars.
Oh the black cross of a ship.
Alone.
Sometimes I get up early and even my soul is wet.
Far away the sea sounds and resounds.
This is a port.
Here I love you.
Here I love you and the horizon hides you in vain.
I love you still among these cold things.
Sometimes my kisses go on those heavy vessels
that cross the sea towards no arrival.
I see myself forgotten like those old anchors.
The piers sadden when the afternoon moors there.
My life grows tired, hungry to no purpose.
I love what I do not have. You are so far.
My loathing wrestles with the slow twilights.
But night comes and starts to sing to me.
The moon turns its clockwork dream.
The biggest stars look at me with your eyes.
And as I love you, the pines in the wind
want to sing your name with their leaves of wire.
---
SONATA
Neither the heart cut by a piece of glass
in a wasteland of thorns
nor the atrocious waters seen in the corners
of certain houses, waters like eyelids and eyes
can capture your waist in my hands
when my heart lifts its oaks
towards your unbreakable thread of snow.
Nocturnal sugar, spirit
of the crowns,
ransomed
human blood, your kisses
send into exile
and a stroke of water, with remnants of the sea,
neats on the silences that wait for you
surrounding the worn chairs, wearing out doors.
Nights with bright spindles,
divided, material, nothing
but voice, nothing but
naked every day.
Over your breasts of motionless current,
over your legs of firmness and water,
over the permanence and the pride
of your naked hair
I want to be, my love, now that the tears are
thrown
into the raucous baskets where they accumulate,
I want to be, my love, alone with a syllable
of mangled silver, alone with a tip
of your breast of snow.
---