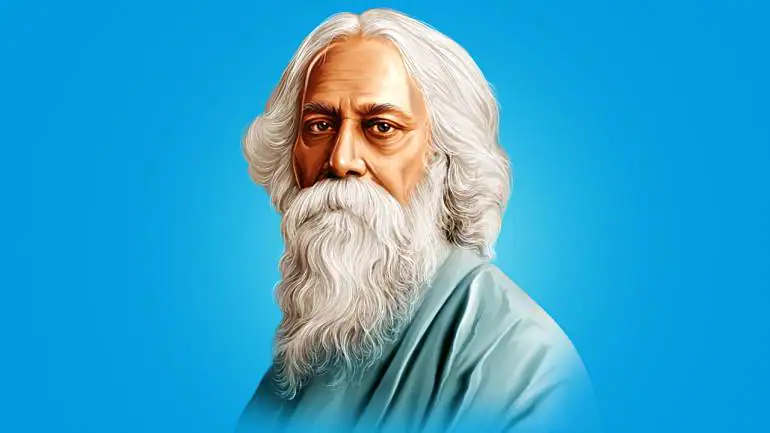 Umumi
Rabindranath Tagore Poems
Free Love
By all means they try to hold me secure who love me in this world.
But it is otherwise with thy love which is greater than theirs,
and thou keepest me free.
Lest I forget them they never venture to leave me alone.
But day passes by after day and thou art not seen.
If I call not thee in my prayers, if I keep not thee in my heart,
thy love for me still waits for my love.
---
Clouds and Waves
Mother, the folk who live up in the clouds call out to me-
"We play from the time we wake till the day ends.
We play with the golden dawn, we play with the silver moon."
I ask, "But how am I to get up to you ?"
They answer, "Come to the edge of the earth, lift up your
hands to the sky, and you will be taken up into the clouds."
"My mother is waiting for me at home, "I say, "How can I leave
her and come?"
Then they smile and float away.
But I know a nicer game than that, mother.
I shall be the cloud and you the moon.
I shall cover you with both my hands, and our house-top will
be the blue sky.
The folk who live in the waves call out to me-
"We sing from morning till night; on and on we travel and know
not where we pass."
I ask, "But how am I to join you?"
They tell me, "Come to the edge of the shore and stand with
your eyes tight shut, and you will be carried out upon the waves."
I say, "My mother always wants me at home in the everything-
how can I leave her and go?"
They smile, dance and pass by.
But I know a better game than that.
I will be the waves and you will be a strange shore.
I shall roll on and on and on, and break upon your lap with
laughter.
And no one in the world will know where we both are.
---
Baby's World
I wish I could take a quiet corner in the heart of my baby's very
own world.
I know it has stars that talk to him, and a sky that stoops
down to his face to amuse him with its silly clouds and rainbows.
Those who make believe to be dumb, and look as if they never
could move, come creeping to his window with their stories and with
trays crowded with bright toys.
I wish I could travel by the road that crosses baby's mind,
and out beyond all bounds;
Where messengers run errands for no cause between the kingdoms
of kings of no history;
Where Reason makes kites of her laws and flies them, the Truth
sets Fact free from its fetters.
---
Endless Time
Time is endless in thy hands, my lord.
There is none to count thy minutes.
Days and nights pass and ages bloom and fade like flowers.
Thou knowest how to wait.
Thy centuries follow each other perfecting a small wild flower.
We have no time to lose,
and having no time we must scramble for a chance.
We are too poor to be late.
And thus it is that time goes by
while I give it to every querulous man who claims it,
and thine altar is empty of all offerings to the last.
At the end of the day I hasten in fear lest thy gate be shut;
but I find that yet there is time.
---
I touch God in my song
as the hill touches the far-away sea
with its waterfall.
The butterfly counts not months but moments,
and has time enough.
Let my love, like sunlight, surround you
and yet give you illumined freedom.
Love remains a secret even when spoken,
for only a lover truly knows that he is loved.
Emancipation from the bondage of the soil
is no freedom for the tree.
In love I pay my endless debt to thee
for what thou art.
---
Playthings
Child, how happy you are sitting in the dust, playing with a broken twig all the morning.
I smile at your play with that little bit of a broken twig.
I am busy with my accounts, adding up figures by the hour.
Perhaps you glance at me and think, "What a stupid game to spoil your morning with!"
Child, I have forgotten the art of being absorbed in sticks and mud-pies.
I seek out costly playthings, and gather lumps of gold and silver.
With whatever you find you create your glad games, I spend both my time and my strength over things I never can obtain.
In my frail canoe I struggle to cross the sea of desire, and forget that I too am playing a game.
---
My Song
This song of mine will wind its music around you, my child, like
the fond arms of love.
This song of mine will touch your forehead like a kiss of
blessing.
When you are alone it will sit by your side and whisper in
your ear, when you are in the crowd it will fence you about with
aloofness.
My song will be like a pair of wings to your dreams, it will
transport your heart to the verge of the unknown.
It will be like the faithful star overhead when dark night is
over your road.
My song will sit in the pupils of your eyes, and will carry
your sight into the heart of things.
And when my voice is silent in death, my song will speak in
your living heart.
---
On the Nature of Love
The night is black and the forest has no end;
a million people thread it in a million ways.
We have trysts to keep in the darkness, but where
or with whom – of that we are unaware.
But we have this faith – that a lifetime's bliss
will appear any minute, with a smile upon its lips.
Scents, touches, sounds, snatches of songs
brush us, pass us, give us delightful shocks.
Then peradventure there's a flash of lightning:
whomever I see that instant I fall in love with.
I call that person and cry: `This life is blest!
for your sake such miles have I traversed!'
All those others who came close and moved off
in the darkness – I don't know if they exist or not.
---
Let Me Not Forget
If it is not my portion to meet thee in this life
then let me ever feel that I have missed thy sight
—let me not forget for a moment,
let me carry the pangs of this sorrow in my dreams
and in my wakeful hours.
As my days pass in the crowded market of this world
and my hands grow full with the daily profits,
let me ever feel that I have gained nothing
—let me not forget for a moment,
let me carry the pangs of this sorrow in my dreams
and in my wakeful hours.
When I sit by the roadside, tired and panting,
when I spread my bed low in the dust,
let me ever feel that the long journey is still before me
—let me not forget a moment,
let me carry the pangs of this sorrow in my dreams
and in my wakeful hours.
When my rooms have been decked out and the flutes sound
and the laughter there is loud,
let me ever feel that I have not invited thee to my house
—let me not forget for a moment,
let me carry the pangs of this sorrow in my dreams
and in my wakeful hours
---

Face To Face
Day after day, O lord of my life,
shall I stand before thee face to face.
With folded hands, O lord of all worlds,
shall I stand before thee face to face.
Under thy great sky in solitude and silence,
with humble heart shall I stand before thee face to face.
In this laborious world of thine, tumultuous with toil
and with struggle, among hurrying crowds
shall I stand before thee face to face.
And when my work shall be done in this world,
O King of kings, alone and speechless
shall I stand before thee face to face.
---
Silent Steps
Have you not heard his silent steps?
He comes, comes, ever comes.
Every moment and every age,
every day and every night he comes, comes, ever comes.
Many a song have I sung in many a mood of mind,
but all their notes have always proclaimed,
`He comes, comes, ever comes.'
In the fragrant days of sunny April through the forest path he comes,
comes, ever comes.
In the rainy gloom of July nights on the thundering chariot of clouds
he comes, comes, ever comes.
In sorrow after sorrow it is his steps that press upon my heart,
and it is the golden touch of his feet that makes my joy to shine.
---
The Flower-School
When storm-clouds rumble in the sky and June showers come down.
The moist east wind comes marching over the heath to blow its
bagpipes among the bamboos.
Then crowds of flowers come out of a sudden, from nobody knows
where, and dance upon the grass in wild glee.
Mother, I really think the flowers go to school underground.
They do their lessons with doors shut, and if they want to
come out to play before it is time, their master makes them stand
in a corner.
When the rain come they have their holidays.
Branches clash together in the forest, and the leaves rustle
in the wild wind, the thunder-clouds clap their giant hands and the
flower children rush out in dresses of pink and yellow and white.
Do you know, mother, their home is in the sky, where the stars
are.
Haven't you see how eager they are to get there? Don't you
know why they are in such a hurry?
Of course, I can guess to whom they raise their arms; they
have their mother as I have my own.
---