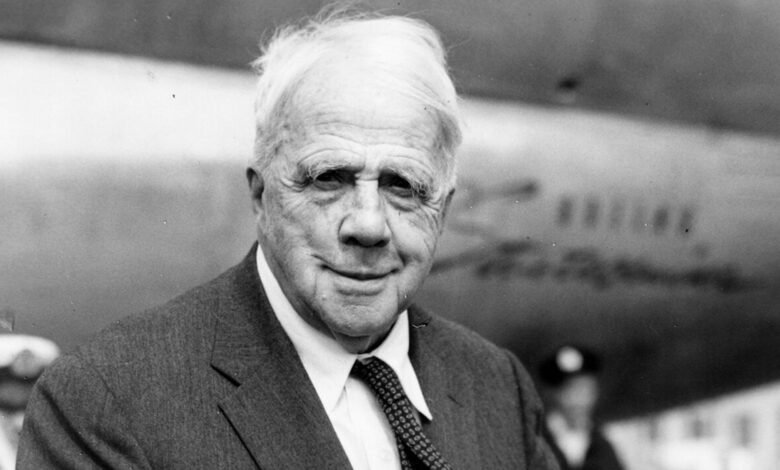 Love And A Question
A stranger came to the door at eve,
And he spoke the bridegroom fair.
He bore a green-white stick in his hand,
And, for all burden, care.
He asked with the eyes more than the lips
For a shelter for the night,
And he turned and looked at the road afar
Without a window light.
The bridegroom came forth into the porch
With, 'Let us look at the sky,
And question what of the night to be,
Stranger, you and I.'
The woodbine leaves littered the yard,
The woodbine berries were blue,
Autumn, yes, winter was in the wind;
'Stranger, I wish I knew.'
Within, the bride in the dusk alone
Bent over the open fire,
Her face rose-red with the glowing coal
And the thought of the heart's desire.
The bridegroom looked at the weary road,
Yet saw but her within,
And wished her heart in a case of gold
And pinned with a silver pin.
The bridegroom thought it little to give
A dole of bread, a purse,
A heartfelt prayer for the poor of God,
Or for the rich a curse;
But whether or not a man was asked
To mar the love of two
By harboring woe in the bridal house,
The bridegroom wished he knew.
---
Flower-Gathering
I left you in the morning,
And in the morning glow,
You walked a way beside me
To make me sad to go.
Do you know me in the gloaming,
Gaunt and dusty gray with roaming?
Are you dumb because you know me not,
Or dumb because you know?
All for me And not a question
For the faded flowers gay
That could take me from beside you
For the ages of a day?
They are yours, and be the measure
Of their worth for you to treasure,
The measure of the little while
That I've been long away.
---
Dust of Snow
The way a crow
Shook down on me
The dust of snow
From a hemlock tree
Has given my heart
A change of mood
And saved some part
Of a day I had rued.
---
Two Look at Two
Love and forgetting might have carried them
A little further up the mountain side
With night so near, but not much further up.
They must have halted soon in any case
With thoughts of a path back, how rough it was
With rock and washout, and unsafe in darkness;
When they were halted by a tumbled wall
With barbed-wire binding. They stood facing this,
Spending what onward impulse they still had
In One last look the way they must not go,
On up the failing path, where, if a stone
Or earthslide moved at night, it moved itself;
No footstep moved it. 'This is all,' they sighed,
Good-night to woods.' But not so; there was more.
A doe from round a spruce stood looking at them
Across the wall, as near the wall as they.
She saw them in their field, they her in hers.
The difficulty of seeing what stood still,
Like some up-ended boulder split in two,
Was in her clouded eyes; they saw no fear there.
She seemed to think that two thus they were safe.
Then, as if they were something that, though strange,
She could not trouble her mind with too long,
She sighed and passed unscared along the wall.
'This, then, is all. What more is there to ask?'
But no, not yet. A snort to bid them wait.
A buck from round the spruce stood looking at them
Across the wall as near the wall as they.
This was an antlered buck of lusty nostril,
Not the same doe come back into her place.
He viewed them quizzically with jerks of head,
As if to ask, 'Why don't you make some motion?
Or give some sign of life? Because you can't.
I doubt if you're as living as you look."
Thus till he had them almost feeling dared
To stretch a proffering hand — and a spell-breaking.
Then he too passed unscared along the wall.
Two had seen two, whichever side you spoke from.
'This must be all.' It was all. Still they stood,
A great wave from it going over them,
As if the earth in one unlooked-for favour
Had made them certain earth returned their love.
---
Tree at my Window
Tree at my window, window tree,
My sash is lowered when night comes on;
But let there never be curtain drawn
Between you and me.
Vague dream head lifted out of the ground,
And thing next most diffuse to cloud,
Not all your light tongues talking aloud
Could be profound.
But tree, I have seen you taken and tossed,
And if you have seen me when I slept,
You have seen me when I was taken and swept
And all but lost.
That day she put our heads together,
Fate had her imagination about her,
Your head so much concerned with outer,
Mine with inner, weather.
---
Fire and Ice
Some say the world will end in fire,
Some say in ice.
From what I've tasted of desire
I hold with those who favor fire.
But if it had to perish twice,
I think I know enough of hate
To know that for destruction ice
Is also great
And would suffice.
---
Wind and Window Flower
Lovers, forget your love,
And list to the love of these,
She a window flower,
And he a winter breeze.
When the frosty window veil
Was melted down at noon,
And the cagèd yellow bird
Hung over her in tune,
He marked her through the pane,
He could not help but mark,
And only passed her by,
To come again at dark.
He was a winter wind,
Concerned with ice and snow,
Dead weeds and unmated birds,
And little of love could know.
But he sighed upon the sill,
He gave the sash a shake,
As witness all within
Who lay that night awake.
Perchance he half prevailed
To win her for the flight
From the firelit looking-glass
And warm stove-window light.
But the flower leaned aside
And thought of naught to say,
And morning found the breeze
A hundred miles away.
---

Tree at my Window
The battle rent a cobweb diamond-strung
And cut a flower beside a ground bird's nest
Before it stained a single human breast.
The stricken flower bent double and so hung.
And still the bird revisited her young.
A butterfly its fall had dispossessed
A moment sought in air his flower of rest,
Then lightly stooped to it and fluttering clung.
On the bare upland pasture there had spread
O'ernight 'twixt mullein stalks a wheel of thread
And straining cables wet with silver dew.
A sudden passing bullet shook it dry.
The indwelling spider ran to greet the fly,
But finding nothing, sullenly withdrew.
---
To Earthward
Love at the lips was touch
As sweet as I could bear;
And once that seemed too much;
I lived on air
That crossed me from sweet things,
The flow of – was it musk
From hidden grapevine springs
Down hill at dusk?
I had the swirl and ache
From sprays of honeysuckle
That when they're gathered shake
Dew on the knuckle.
I craved strong sweets, but those
Seemed strong when I was young;
The petal of the rose
It was that stung.
Now no joy but lacks salt
That is not dashed with pain
And weariness and fault;
I crave the stain
Of tears, the aftermark
Of almost too much love,
The sweet of bitter bark
And burning clove.
When stiff and sore and scarred
I take away my hand
From leaning on it hard
In grass and sand,
The hurt is not enough:
I long for weight and strength
To feel the earth as rough
To all my length.
---
Design
I found a dimpled spider, fat and white,
On a white heal-all, holding up a moth
Like a white piece of rigid satin cloth —
Assorted characters of death and blight
Mixed ready to begin the morning right,
Like the ingredients of a witches' broth —
A snow-drop spider, a flower like a froth,
And dead wings carried like a paper kite.
What had that flower to do with being white,
The wayside blue and innocent heal-all?
What brought the kindred spider to that height,
Then steered the white moth thither in the night?
What but design of darkness to appall?–
If design govern in a thing so small.
---
Bond And Free
Love has earth to which she clings
With hills and circling arms about–
Wall within wall to shut fear out.
But Thought has need of no such things,
For Thought has a pair of dauntless wings.
On snow and sand and turn, I see
Where Love has left a printed trace
With straining in the world's embrace.
And such is Love and glad to be
But Thought has shaken his ankles free.
Thought cleaves the interstellar gloom
And sits in Sirius' disc all night,
Till day makes him retrace his flight
With smell of burning on every plume,
Back past the sun to an earthly room.
His gains in heaven are what they are.
Yet some say Love by being thrall
And simply staying possesses all
In several beauty that Thought fares far
To find fused in another star.
---
Good-bye, and Keep Cold
This saying good-bye on the edge of the dark
And cold to an orchard so young in the bark
Reminds me of all that can happen to harm
An orchard away at the end of the farm
All winter, cut off by a hill from the house.
I don't want it girdled by rabbit and mouse,
I don't want it dreamily nibbled for browse
By deer, and I don't want it budded by grouse.
(If certain it wouldn't be idle to call
I'd summon grouse, rabbit, and deer to the wall
And warn them away with a stick for a gun.)
I don't want it stirred by the heat of the sun.
(We made it secure against being, I hope,
By setting it out on a northerly slope.)
No orchard's the worse for the wintriest storm;
But one thing about it, it mustn't get warm.
"How often already you've had to be told,
Keep cold, young orchard. Good-bye and keep cold.
Dread fifty above more than fifty below."
I have to be gone for a season or so.
My business awhile is with different trees,
Less carefully nourished, less fruitful than these,
And such as is done to their wood with an axe–
Maples and birches and tamaracks.
I wish I could promise to lie in the night
And think of an orchard's arboreal plight
When slowly (and nobody comes with a light)
Its heart sinks lower under the sod.
But something has to be left to God.
---