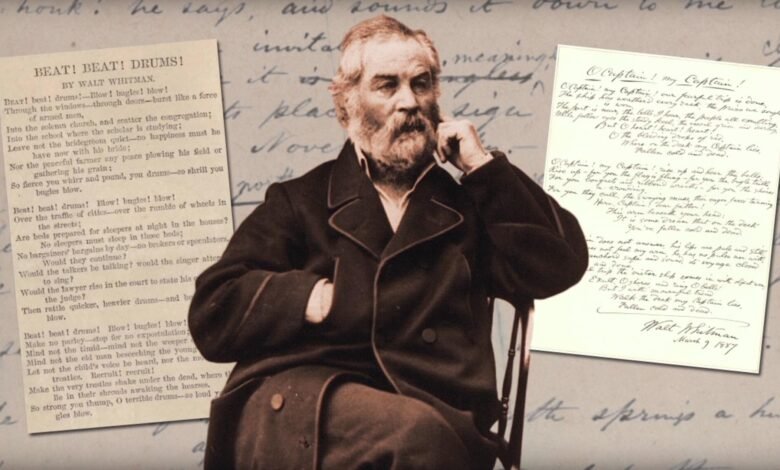 World, Take Good Notice
WORLD, take good notice, silver stars fading,
Milky hue ript, weft of white detaching,
Coals thirty-eight, baleful and burning,
Scarlet, significant, hands off warning,
Now and henceforth flaunt from these shores.
---
With All Thy Gifts
WITH all thy gifts, America,
(Standing secure, rapidly tending, overlooking the world,)
Power, wealth, extent, vouchsafed to thee–With these, and like of
these, vouchsafed to thee,
What if one gift thou lackest? (the ultimate human problem never
solving
The gift of Perfect Women fit for thee–What of that gift of gifts
thou lackest?
The towering Feminine of thee? the beauty, health, completion, fit
for thee?
The Mothers fit for thee?
---
All Is Truth
O ME, man of slack faith so long!
Standing aloof–denying portions so long;
Only aware to-day of compact, all-diffused truth;
Discovering to-day there is no lie, or form of lie, and can be none,
but grows as inevitably upon itself as the truth does upon
itself,
Or as any law of the earth, or any natural production of the earth
does.
(This is curious, and may not be realized immediately–But it must be
realized;
I feel in myself that I represent falsehoods equally with the rest,
And that the universe does.)
Where has fail'd a perfect return, indifferent of lies or the truth?
Is it upon the ground, or in water or fire? or in the spirit of man?
or in the meat and blood?
Meditating among liars, and retreating sternly into myself, I see
that there are really no liars or lies after all,
And that nothing fails its perfect return–And that what are called
lies are perfect returns,
And that each thing exactly represents itself, and what has preceded
it,
And that the truth includes all, and is compact, just as much as
space is compact,
And that there is no flaw or vacuum in the amount of the truth–but
that all is truth without exception;
And henceforth I will go celebrate anything I see or am,
And sing and laugh, and deny nothing.
---
After The Sea-Ship
AFTER the Sea-Ship–after the whistling winds;
After the white-gray sails, taut to their spars and ropes,
Below, a myriad, myriad waves, hastening, lifting up their necks,
Tending in ceaseless flow toward the track of the ship:
Waves of the ocean, bubbling and gurgling, blithely prying,
Waves, undulating waves–liquid, uneven, emulous waves,
Toward that whirling current, laughing and buoyant, with curves,
Where the great Vessel, sailing and tacking, displaced the surface;
Larger and smaller waves, in the spread of the ocean, yearnfully
flowing;
The wake of the Sea-Ship, after she passes–flashing and frolicsome,
under the sun,
A motley procession, with many a fleck of foam, and many fragments,
Following the stately and rapid Ship–in the wake following.
---
Who Learns My Lesson Complete?
WHO learns my lesson complete?
Boss, journeyman, apprentice–churchman and atheist,
The stupid and the wise thinker–parents and offspring–merchant,
clerk, porter and customer,
Editor, author, artist, and schoolboy–Draw nigh and commence;
It is no lesson–it lets down the bars to a good lesson,
And that to another, and every one to another still.
The great laws take and effuse without argument;
I am of the same style, for I am their friend,
I love them quits and quits–I do not halt, and make salaams.
I lie abstracted, and hear beautiful tales of things, and the reasons
of things;
They are so beautiful, I nudge myself to listen.
I cannot say to any person what I hear–I cannot say it to myself–it
is very wonderful.
It is no small matter, this round and delicious globe, moving so
exactly in its orbit forever and ever, without one jolt, or the
untruth of a single second;
I do not think it was made in six days, nor in ten thousand years,
nor ten billions of years,
Nor plann'd and built one thing after another, as an architect plans
and builds a house.
I do not think seventy years is the time of a man or woman,
Nor that seventy millions of years is the time of a man or woman,
Nor that years will ever stop the existence of me, or any one else.
Is it wonderful that I should be immortal? as every one is immortal;
I know it is wonderful, but my eyesight is equally wonderful, and how
I was conceived in my mother's womb is equally wonderful;
And pass'd from a babe, in the creeping trance of a couple of summers
and winters, to articulate and walk–All this is equally
wonderful.
And that my Soul embraces you this hour, and we affect each other
without ever seeing each other, and never perhaps to see each
other, is every bit as wonderful.
And that I can think such thoughts as these, is just as wonderful;
And that I can remind you, and you think them, and know them to be
true, is just as wonderful.
And that the moon spins round the earth, and on with the earth, is
equally wonderful,
And that they balance themselves with the sun and stars, is equally
wonderful.
---
To Foreign Lands
I HEARD that you ask'd for something to prove this puzzle, the New
World,
And to define America, her athletic Democracy;
Therefore I send you my poems, that you behold in them what you
wanted.
---
Voices
NOW I make a leaf of Voices–for I have found nothing mightier than
they are,
And I have found that no word spoken, but is beautiful, in its place.
O what is it in me that makes me tremble so at voices?
Surely, whoever speaks to me in the right voice, him or her I shall
follow,
As the water follows the moon, silently, with fluid steps, anywhere
around the globe.
All waits for the right voices;
Where is the practis'd and perfect organ? Where is the develop'd
Soul?
For I see every word utter'd thence, has deeper, sweeter, new sounds,
impossible on less terms.
I see brains and lips closed–tympans and temples unstruck,
Until that comes which has the quality to strike and to unclose,
Until that comes which has the quality to bring forth what lies
slumbering, forever ready, in all words.
---
One Sweeps By
ONE sweeps by, attended by an immense train,
All emblematic of peace–not a soldier or menial among them.

One sweeps by, old, with black eyes, and profuse white hair,
He has the simple magnificence of health and strength,
His face strikes as with flashes of lightning whoever it turns
toward.

Three old men slowly pass, followed by three others, and they by
three others,
They are beautiful–the one in the middle of each group holds his
companions by the hand,
As they walk, they give out perfume wherever they walk.
---

To A Stranger
PASSING stranger! you do not know how longingly I look upon you,
You must be he I was seeking, or she I was seeking, (it comes to me,
as of a dream,)
I have somewhere surely lived a life of joy with you,
All is recall'd as we flit by each other, fluid, affectionate,
chaste, matured,
You grew up with me, were a boy with me, or a girl with me,
I ate with you, and slept with you–your body has become not yours
only, nor left my body mine only,
You give me the pleasure of your eyes, face, flesh, as we pass–you
take of my beard, breast, hands, in return,
I am not to speak to you–I am to think of you when I sit alone, or
wake at night alone,
I am to wait–I do not doubt I am to meet you again,
I am to see to it that I do not lose you.
---
Thoughts
OF ownership–As if one fit to own things could not at pleasure enter
upon all, and incorporate them into himself or herself.
Of waters, forests, hills;
Of the earth at large, whispering through medium of me;
Of vista–Suppose some sight in arriere, through the formative chaos,
presuming the growth, fulness, life, now attain'd on the
journey;
(But I see the road continued, and the journey ever continued
–Of what was once lacking on earth, and in due time has become
supplied–And of what will yet be supplied,
Because all I see and know, I believe to have purport in what will
yet be supplied.
---
Rise, O Days
RISE, O days, from your fathomless deeps, till you loftier, fiercer
sweep!
Long for my soul, hungering gymnastic, I devour'd what the earth gave
me;
Long I roam'd the woods of the north–long I watch'd Niagara pouring;
I travel'd the prairies over, and slept on their breast–I cross'd
the Nevadas, I cross'd the plateaus;
I ascended the towering rocks along the Pacific, I sail'd out to sea;
I sail'd through the storm, I was refresh'd by the storm;
I watch'd with joy the threatening maws of the waves;
I mark'd the white combs where they career'd so high, curling over;
I heard the wind piping, I saw the black clouds;
Saw from below what arose and mounted, (O superb! O wild as my heart,
and powerful!)
Heard the continuous thunder, as it bellow'd after the lightning;
Noted the slender and jagged threads of lightning, as sudden and fast
amid the din they chased each other across the sky;
–These, and such as these, I, elate, saw–saw with wonder, yet
pensive and masterful;
All the menacing might of the globe uprisen around me;
Yet there with my soul I fed–I fed content, supercilious.
'Twas well, O soul! 'twas a good preparation you gave me!
Now we advance our latent and ampler hunger to fill;
Now we go forth to receive what the earth and the sea never gave us;
Not through the mighty woods we go, but through the mightier cities;
Something for us is pouring now, more than Niagara pouring;
Torrents of men, (sources and rills of the Northwest, are you indeed
inexhaustible?)
What, to pavements and homesteads here–what were those storms of the
mountains and sea?
What, to passions I witness around me to-day? Was the sea risen?
Was the wind piping the pipe of death under the black clouds?
Lo! from deeps more unfathomable, something more deadly and savage;
Manhattan, rising, advancing with menacing front–Cincinnati,
Chicago, unchain'd;
–What was that swell I saw on the ocean? behold what comes here!
How it climbs with daring feet and hands! how it dashes!
How the true thunder bellows after the lightning! how bright the
flashes of lightning!
How DEMOCRACY, with desperate vengeful port strides on, shown through
the dark by those flashes of lightning!
(Yet a mournful wail and low sob I fancied I heard through the dark,
In a lull of the deafening confusion.)
Thunder on! stride on, Democracy! strike with vengeful stroke!
And do you rise higher than ever yet, O days, O cities!
Crash heavier, heavier yet, O storms! you have done me good;
My soul, prepared in the mountains, absorbs your immortal strong
nutriment;
–Long had I walk'd my cities, my country roads, through farms, only
half-satisfied;
One doubt, nauseous, undulating like a snake, crawl'd on the ground
before me,
Continually preceding my steps, turning upon me oft, ironically
hissing low;
–The cities I loved so well, I abandon'd and left–I sped to the
certainties suitable to me;
Hungering, hungering, hungering, for primal energies, and Nature's
dauntlessness,
I refresh'd myself with it only, I could relish it only;
I waited the bursting forth of the pent fire–on the water and air I
waited long;
–But now I no longer wait–I am fully satisfied–I am glutted;
I have witness'd the true lightning–I have witness'd my cities
electric;
I have lived to behold man burst forth, and warlike America rise;
Hence I will seek no more the food of the northern solitary wilds,
No more on the mountains roam, or sail the stormy sea.
---
Sometimes With One I Love
SOMETIMES with one I love, I fill myself with rage, for fear I effuse
unreturn'd love;
But now I think there is no unreturn'd love–the pay is certain, one
way or another;
(I loved a certain person ardently, and my love was not return'd;
Yet out of that, I have written these songs.)
---
Song of Myself